Company Profile
Since early 1974, we have gathered strong, good suppliers and have for many years
had the exclusive distribution of EMKA and Protex products in Denmark

Total solutions for the industry
Focus on individuality
As our customers demand more and more individual solutions, we focus on offering custom-made solutions based on our extensive product catalogue that features more than 10,000 different products. Our customers are constantly developing their business and we develop together with them. Although we are constantly expanding, we manage to maintain our traditional, down-to-earth service, which is still the core of our business.
The approach to the task makes all the difference
We know how our customers use our products, and understand better than anyone else where our products are used and what for. We are proud to be a selected partner for a constantly evolving industry. Megatrade is ISO9001 certified and we supply our products directly from our own warehouses in Denmark.
We love our customers
Together with our customers, we focus on finding simple, creative, cost-reducing solutions, using our vast knowledge and strong contacts in our global network of suppliers.
We create value
Megatrade's development department is an important part of the collaboration with our customers. First, together with them, we define the customer's needs. We then use our experience and knowledge to find the best and most cost-optimised solution. If the solution requires us to develop a new product, then our development department has all the expertise required of a real partner. Of course, we use 3D printing as a professional tool, so we can show customers the specific solution before we initiate a binding production process, which otherwise could be unnecessarily expensive and long. We also use 3D printing to develop control tools that help ensure that our products comply with specifications and tolerances.
Megatrade and the Wind Industry
The global wind industry has been an important and exciting customer segment at Megatrade for more than two decades. The wind industry has many, very specific rules and requirements for solutions, products and suppliers. In this field too, Megatrade has proven to be a solid, competitive and global supplier. Today we supply the biggest wind turbine manufacturers in the world.
Global supply-Chain
Located in Shanghai, our Chinese sister company was established in 2013. It serves our global customers in Asia and its own increasing sales to Chinese customers. In addition to its own customers, Megatrade China deals with sourcing and produces competitive products and solutions: for example, for our European and American customers.
---

Megalatch
It was at DISA that Mogens Galtt got the idea for the lock we know today as Megalatch. The latch is notable for its special spring device, which makes it easy to operate, because it pops up and stays upright when open. When he bought out the Megalatch from DISA and brought it to his new company, it played a crucial role in the development of Megatrade - from applied art to locks, hinges, brackets etc.
We are proud to continue to produce and sell the Megalatch, which, thanks to its timeless and elegant design, can be used in an infinite number of contexts. The latch is produced in four sizes and two materials; galvanized and stainless steel.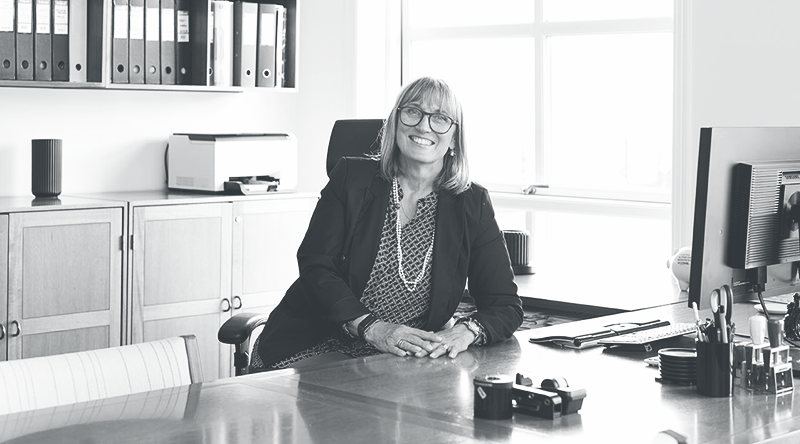 Susanne Galtt
Managing Director
---
Megatrade was started in 1974 in the basement of my parents-in-law's home, where they produced various industrial designs: mainly brass and ceramic series. My father-in-law, Mogens Galtt, the founder of Megatrade, was a civil engineer and worked for a few years as an associate professor at DTU (Technical University of Denmark), before being hired by DISA in 1960. Here he helped develop the casting machine DISAMATIC, which is still used throughout today.
In late 1974, he and his wife founded the company Megatrade. The name is formed from their names - Mogens and Elisabeth Galtt. About 20 years later, my husband, Peter Galtt took over the company. He is also a civil engineer and, like his father, a clever innovator and further developed Megatrade to what it is today. Unfortunately, illness prevented Peter from running the company. So in 2015 he handed over the reins to me, his wife, Susanne Galtt.
I would be lying if I said it has been easy to take over under the circumstances, but I am incredibly proud of what Megatrade represents today.
With a transition to a new, more digital world, excellent employees and a strong board, I definitely believe that our new strategy based on sustainable products and a focus on six overall segments really accommodate our customers' needs, and that Megatrade is an extremely strong position, ready for yet another exciting journey into the future.